By arranging sounds, we create music. But music means so much more to us than this simple definition implies. Through elements like rhythm, melody, and harmony, music expresses ideas and evokes emotions. Music is timeless – bringing back cherished memories, elevating our experiences in the present moment, and giving us hope for the future. While music plays an important role throughout our lifetime, it has a large number of benefits specifically for older adults.
Memory Care & Music
Within our brain, different areas form a network called the limbic system that is responsible for memory, emotion, and movement. According to ComForCare, listening to music lights up areas in this system that helps to stimulate cognitive function and promote self-regulation, perception, attention, and memory. Additionally, music can help older adults maintain language, speech, creativity, and productivity – all important skills that assist in memory care.
Physical Benefits of Music for Older Adults
With music comes, movement! Whether it's dancing, stretching, our simply tapping your feet to the beat, music is a great motivator to get active. Staying active goes hand in hand with wellness, helping improve mobility and overall health. At Trico LivingWell, our fitness classes like yoga and seated zumba incorporate music for these benefits. Some additional physical benefits of music for older adults include improving sleep quality and the management of physical pain.
Mental Benefits of Music for Older Adults
For older adults, isolation can greatly impact their quality of life, which can lead to depression and anxiety. Web MD notes that music can alleviate symptoms of stress, anxiety, and depression. Music helps people express themselves when words aren't enough to explain how they feel. It also provides a medium to connect with one another. Whether it's connecting with grandkids over the most outrageous new genre of music, or sharing a memory associated with a song from your childhood with a caregiver, music promotions connection.
At Trico LivingWell, our residents enjoy live concerts on a weekly basis in our dedicated theatre as part of our programming and activities. Our Active Body Active Mind Memory Care program also incorporates music to support older adults in our community living with dementia and other cognitive conditions. Interested in learning more? Book a tour with us today! You can also check out the activities our residents enjoy on a weekly basis here.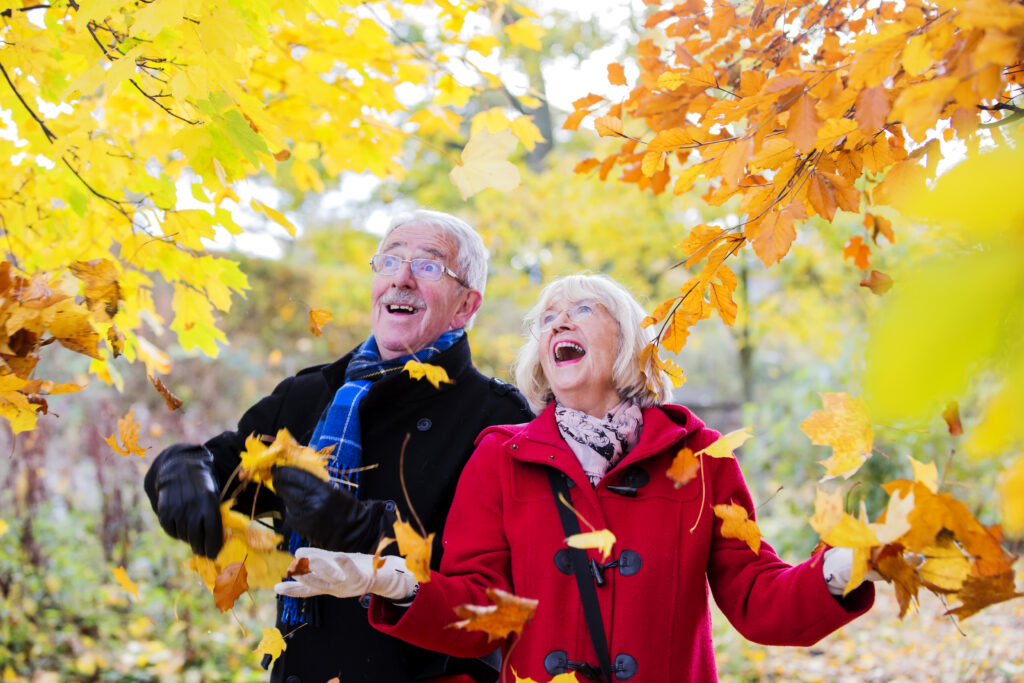 As we head into September, signs of the arrival of autumn are  all around us – crisp air, the beautiful yellows, oranges, and reds of changing leaves, and an abundance of delicious comforting meals as farmers begin to harvest. Autumn also marks the beginning of changes to the weather. As the temperature drops, it is important to consider how this might impact our health and safety. This is especially important in places like Calgary, where the weather can turn on a dime (Calgary has experienced snow as early as August 15!). Here are 3 autumn preparation tips for seniors to help you make the most of the season while remaining safe.
1. Proactively Plan For Flu Season
According to the National Institute on Aging, the flu is more dangerous for older adults given that our immune system weakens as we age. Further to this, the flu can cause additional health complications like pneumonia. The most effective way to prevent the flu is to get a flu vaccine each year.  At Trico LivingWell, we provide influenza shots on-site for all residents on an annual basis to keep our community safe and healthy. Washing your hands, keeping your space clean, and staying home when you are sick are additional precautions you can take.
2. Stay Warm In A Stylish Sweater
Not only does slipping into your favourite fall sweater guarantee comfort, this is also a great way to keep warm with the dropping temperatures! Be sure to layer your clothing for the ease of being able to bundle up in the chilly mornings and shed some layers as the sun shines in the afternoon.
3. Sweep Away Leaves and Additional Debris
Spending time in nature has great benefits for our health, and autumn is a perfect time to do so – with the beautiful, picturesque scenery, going for a walk amongst the tapestry of falling leaves is an elevated experience. While there's no doubt that the falling leaves are beautiful, these can be a tripping hazard when stepping out to enjoy the crisp autumn air. Ask a loved one to help you sweep leaves away that could pose a fall risk near entrances of your home. At Trico LivingWell, our maintenance team ensure our residents don't have to worry about this by doing leaf removal frequently.
Managing these considerations on your own can feel intimidating at times. If you're looking for some additional peace of mind, consider looking into a retirement living community like Trico LivingWell that has building features that help keep residents safe during the changing seasons. Trico LivingWell is outfitted with heated sidewalks to keep our residents safe from falling hazards, as well as a comprehensive on-site team consisting of utilities, maintenance, security and housekeeping to help residents feel comfortable and safe so they can spend time focused on aging well.
Book a tour today and come see our community for yourself!
As we enter our golden years, our hearts undergo various changes that need to be considered for our overall wellness. With so much health information out there, it can be tricky to know where to start! We've compiled 3 tips to get you started on your healthy heart journey:
1. Get Moving Every Day
By engaging in physical activity, you can strengthen your heart and improve its ability to pump blood throughout your body. This helps to lower blood pressure, manage blood sugar and insulin, and reduce the risk of developing heart disease. You don't need to engage in intense workouts to reap the benefits of physical activity. Simply find an activity you enjoy, like taking a relaxing walk, playing pickleball, or gardening. Plus, spending time outdoors has a host of other health benefits!
2. Eat Heart-Healthy Foods
Your diet plays a crucial role in keeping your heart healthy. According to Harvard's Nutrition Source, a diet rich in fruits and vegetables, whole grains, nuts, fish, poultry, and vegetable oils can help prevent heart disease. At Trico LivingWell, we prioritize nutrition for our residents by providing fresh fruits and vegetables that make healthy choices easy. Our talented culinary team ensures that every meal is both nutritious and delicious!
3. Prioritize Good Sleep Habits
Getting enough sleep is an important part of physical wellness that supports your heart health. While you sleep, your heart rate and blood pressure decrease, which helps to support your cardiovascular system. Older adults should aim for 7-9 hours of sleep each night, according to the National Institute on Aging. Establishing a bedtime routine, keeping your bedroom at a comfortable temperature, and avoiding caffeine in the evening can all help improve the quality of your sleep. Sweet dreams!
Please note that these guidelines are general recommendations and are for information purposes only. No material on our website is intended to be a substitute for professional medical advice. Always seek the medical advice of your physician or other qualified health care provider when undertaking a new health regimen.
Beat the summer heat with a refreshing pitcher of Strawberry Lemonade! Cool off and quench your thirst with this delicious drink, courtesy of our Front of House Server, April.
Ingredients: 
1 lb of strawberries; cleaned, trimmed, blended, and strained
10 lemons, juiced
1-2 cups sugar or other sweetener of choice (optional)
4 L of cold water
2 L of ice
Garnish: 
Lemon slices (optional)
Strawberry slices (optional)
Mint leaves
Instructions: 
Stir to combine strawberry puree, lemon juice and water. If you find it too sour you can add sugar or another sweetener of your choice like maple syrup or honey. Serve with ice. Serves 20
The beauty of a blooming garden and the satisfaction of a successful harvest are just a few reasons why gardening is such a beloved hobby. As we age, certain passions like gardening can start to feel more challenging as our mobility and stamina decrease. Check out the following tips and tricks to help you continue to nurture your passion for gardening as an older adult.
Warm Up
Gardening is a lot more than just flexing your green thumb! Just like any other physical activity, it's essential to prepare your muscles for the extended periods of standing, bending, stretching, and lifting that are required to maintain a beautiful garden. Before you start gardening, make sure to stretch properly and pay attention to your body so that you don't push yourself too hard.
 Drink Lots of Water
It's important to stay hydrated, especially during hot summer days. If you're in Calgary where temperatures can reach up to 30 degrees, staying hydrated is especially important. To avoid dehydration while outdoors, always bring a water bottle with you and take breaks to hydrate. You can find some more helpful tips on how to increase your water intake here.
 Protect Your Skin 
 If you are outside in the sun for extended periods, it's important to remember to protect your skin. Sunburn can appear quickly, sometimes in as little as 11 minutes. To avoid sunburn, make sure to apply sunscreen every two hours while you're outside. Wearing clothes that cover exposed and sensitive areas is also a great way to protect your skin from irritants and the sun's harmful rays. Additionally, consider gardening in the early morning or late evening when the sun is not at its peak.
Consider Using Adaptive Tools
If you're looking to make gardening tasks easier, there are many tools available that can help. Garden seats with wheels, reachers, grabbers, and tools with cushioned handles are just a few examples. You can find these tools online (Amazon has a whole section of gardening tools for older adults on their website), or at most gardening centers. These tools can make it easier to enjoy the benefits of gardening without the strain and discomfort that can come with it.
Join a Community Garden
Gardening can be a lot of hard work! Tasks like weeding, watering, pruning, and planting can take a lot of time and energy. By working as a team, these tasks become less time consuming and more enjoyable. Not only does teamwork make the workload easier, but it also allows for socializing while working. This is also a great opportunity for you to provide mentorship by teaching your neighbours, family and friends your own gardening techniques.
At Trico LivingWell, we have a community garden that brings joy to our residents and serves as a great common interest that brings everyone together. During our weekly Gardening Club, we take time to deadhead plants, catch up with each other, and spend quality time in the sunshine. It's a great way to enjoy the benefits of gardening while also building relationships throughout our community.
Come see our community garden & more by booking a tour with us! We'd love to meet you.
Are you looking for more ways to connect with your grandchildren and younger family members? It can be tough to bridge the gap between generations, but building and nurturing these connections is worth it. Keep reading to discover the benefits of spending some quality time with the younger generation.
Connecting With Younger Generations Allows You to Mentor
As an older adult, you carry a lifetime of wisdom. Whether you're telling a story about a time you learned a valuable lesson or sharing a family tradition, this form of mentorship can be just what a young person needs as they prepare to navigate the stages of adulthood.
In these relationships, you often take the role of the student as well. Kids growing up in the digital era have an abundance of knowledge on the ever-changing technology landscape that they are eager to share. While technology can be frustrating, a few simple tips and tricks are enough to help you connect with them (and others!) in unique ways.
Connecting With Younger Generations Reduces Misconceptions About Aging
We often fear what we do not understand, and aging is no different. Aging is affiliated with things like depression, loneliness, and grumpiness. In reality, many people report being happier as they age. The best way to normalize aging for young people is by simply connecting them with someone who has done it. Sharing the joy and satisfaction that comes with a life well-lived reduces the stigma and misconceptions around aging while setting the precedent that this is a natural process.
What If I Don't Have Younger Family to Connect With?
Many organizations that provide programming for youth will have opportunities for older adults to get involved. At Trico LivingWell, we are taking a unique approach to this by hosting a group of Trico Centre summer camp youth called the Innovators. This is a creative leadership program that introduces youth to community initiatives, volunteerism, exploring personal interests, organization, and interpersonal skills. Throughout the summer, they will be joining us to lead and participate in our art, music, and wellness programming. We are thrilled to have the opportunity to connect with the younger generation this summer!
To learn more about Trico LivingWell's community events, click here.
The sun is shining and it's time to get social! Whether it's chatting over coffee or taking a nice spring walk with a friend, being social does a lot more than boost our mood in the moment. Read on to learn some of the long-term health benefits that result from socializing.
Being Social Helps Build New Skills
Participating in social activities is one of the best ways to build a new skill. Being in a group setting offers you the encouragement you need to learn quickly and challenge your creativity. At Trico LivingWell, we have social activities in performing arts, music, art, pottery and gardening to help you continue your lifelong learning journey.
Being Social Improves Brain Health
Participating in social activities helps you feel fulfilled by lowering stress levels, decreasing depression and anxiety, and providing an opportunity to engage your memory through problem-solving. Social activities can also help you find meaning that develops resilience, a key mindset built through thoughts, actions, and behaviours. You can check out Trico LivingWell's organized events to get involved in our weekly game nights, personal interest clubs, and external excursions to take care of your brain while having fun along the way.
Being Social Benefits Many Dimensions of Wellness
We recognize that there is no one-size-fits-all approach to health and wellness. Social activities are a great addition to your wellness routine because they incorporate many dimensions of wellness. Trico LivingWell offers many opportunities to take care of your physical, mental, and emotional well-being. You can take a trip to our community garden to nurture your soul or enjoy a cultural performance in our theatre. The best part? These activities may benefit different dimensions of your wellness routine based on your own personal journey – we are all unique.
Being Social Builds Community
"If you want to go fast, go alone. If you want to go far, go together"
Social activities help build community. Through community, we are able to seek meaningful connections that help us live a happy, healthy life. At Trico LivingWell, we strive to create a supportive, inclusive, and secure community that empowers you to live life to the fullest.
We'd love to show you our community! Book a tour today to learn more about what Trico LivingWell has to offer.
Making the move to retirement living can be an overwhelming process. Here are five factors you should consider as a part of your retirement living checklist:
Timeframe
When do you foresee your move taking place?
In many cases, the timeframe of your move may not necessarily be dictated by a want, but a need. Have conversations with your loved ones and plan proactively. This will ensure that you can live comfortably in a community that allows you to age with purpose.
Budget
What does your budget look like?
Start by calculating the costs of your current living situation. Most retirement communities should include rent or home upkeep, utilities, taxes, groceries/meals, housekeeping, snow removal, and landscaping. To be sure that all your lifestyle needs will be met, touch base with a leasing consultant to verify what amenities are offered and how these will factor in to your monthly rent.
At Trico LivingWell, our Lifestyle Leasing Consultant will ensure that you can select the option that best meets your retirement living needs.
You can also check out our Affordability Calculator to see how the cost of living at Trico LivingWell compares to your current monthly living costs.
Social
How do you like to spend your time?
Socialization has a significant positive impact on our wellness. Benefits include improved mood, memory, and increased physical activity. Ask for a monthly recreation calendar from your potential retirement home to ensure the activities offered align with your interests.
At Trico LivingWell, we have a variety of programming that supports active living and lifelong learning, ranging from performing arts to gardening. We always appreciate new ideas and look to incorporate these into our weekly activity schedules.
Medical & Healthcare Needs
What are your care concerns?
It's not always fun to talk about medical and healthcare needs, but it is important to understand the level of care required to find you the best possible home. Your doctor is a great resource in determining a retirement living community that will best cater to your care requirements. Furthermore, your doctor can provide you with the Physician Report necessary to address the right level of care for you.
Consider how a retirement community provides care – What healthcare services are provided in-house? Is there assistance with coordinating transportation for services in the community? What core values does the community live by?
With an emphasis on wellness, Trico LivingWell's care philosophy is built on a social model of care services, and takes person-centred care one step further to the relationship level.
Decision Makers
Who is helping with your decision?
Family members and friends are often a part of the decision-making process. Have open conversations with your loved ones so they know your wishes and can help you find and receive an enhanced care experience.
Collaborating with doctors, friends, and family is a part of Trico LivingWell's care philosophy. We recognize that for residents to be happy and fulfilled, we need to understand their past and present relationships with the individuals that may play a role in influencing their holistic wellness.
When it comes to retirement living, your health comes first. You deserve compassionate care from an accountable team that treats everyone with respect and dignity in a safe environment.
To learn more about retired living, you can contact us or book an appointment to meet with our team. We look forward to hearing from you.
By Drew Williams, Executive Director of Trico LivingWell