Blog | February 17, 2022
We're Pet Friendly
Your pets are more than just companions, they're members of your family. At Trico LivingWell, we're thrilled to welcome both you and your four-legged friends with open arms.
We believe that pets can be beneficial to the social, psychosocial, physiological well-being of our residents. That's why we decided it was an absolute must to be a pet-friendly community! 
We have large green spaces both at the Kingsland Junction property and in the surrounding area for you and your pet to walk and explore.

There are two dog runs on the Kingsland Junction site for your convenience, one located right beside our Trico LivingWell buildings.

 

We also have an in-house dog wash station, located in the parkade, to keep your pet friend squeaky clean.
Why We Love Pets
Pet ownership has plenty of unexpected benefits for seniors. For starters, research shows that older adults who own a dog walk an average of 22 minutes more per day than those who don't have a dog. Pets are therapeutic and help improve owner's physical and mental wellness.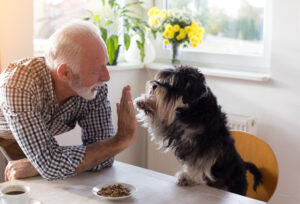 While the benefits to pet ownership for older adults are numerous, there are also unique challenges when bringing your pet to an assisted living community, including some communities' lack of space and restrictive pet policies. That's why we've made space for your pets, both in our community and in our policies.