Blog | April 13, 2022
6 Benefits of Living in an Older Adult Residence
Moving into an older adult residence is an exciting time, with opportunities for friendship, social connection, and fun activities right around the corner. However, it can also be stressful and nerve-wracking. You may feel overwhelmed by all the options and changes, or even confused by the terminology. If you or a loved one is anxious about moving into an older adult residence, remember that it is perfectly normal to be nervous about entering this new stage of life, and that there are many benefits to making the move.
1) Community & Support
The best aspect of residence living is the support you'll find among the residents and staff of your new community. Whether you're enjoying a meal together, participating in an activity, or just sitting down for tea, there are plenty of opportunities to create meaningful connections with those around you.
2) Care & Safety
Many older adult residences provide care services including medication management, support with activities of daily living, specialized care for people living with Alzheimer's or dementia, and even round-the-clock nursing staff to ensure help is available right when it's needed. Additionally, many residences will hire professional chefs to head up the dining services – meaning you can enjoy delicious meals that are healthy, balanced, and catered specifically to your dietary needs.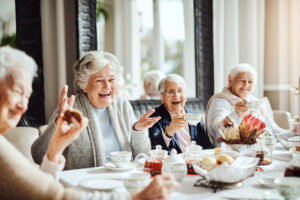 3) Stability & Structure
Knowing that you have a strong community to support you in your daily life provides a sense of stability in the moving process. It can be difficult to move into an older adult residence when you are unsure of what to expect, but having a routine – including scheduled activities and mealtimes – can help make the transition smoother.
4) Health & Fitness
We all know how important physical activity is for our health. At an older adult residence, you will get the benefit of guided fitness classes to help improve your mobility that are also fun to participate in! Plus, there are many opportunities for social and intellectual activities as well. From dance lessons to chess to weekly movie nights, there is sure to be something for everyone.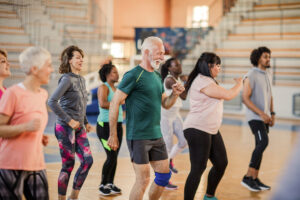 5) Pet Friendly
Many residences are pet friendly, meaning your furry friends can join you on your new journey! Pets offer numerous health and wellness benefits, including companionship, reduced anxiety, and opportunities for exercise and play.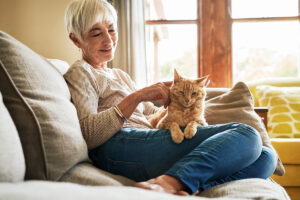 6) Peace of Mind
At an older adult residence, you can sleep soundly knowing that everything is taken care of. Not needing to worry about home maintenance and daily tasks like cooking, cleaning, laundry, and buying groceries allows you to focus on what really matters to you. You can spend more time relaxing, picking up a new hobby, or meeting more friends in the community. The possibilities are endless indeed!
At Trico LivingWell™, we're ushering in a bold new age where older adults are redefining aging and living life to the fullest. Our older adult rental communities are designed to empower those who embrace independence and active living – while facilitating inclusivity and togetherness through a holistic health, empathetic and personalized approach to aging. Speak with our lifestyle leasing consultant to find out how we can help you age in place!