International Women's Day is next week and we are thrilled to invite you to an exclusive art exhibit "The Grandmothers" created by local artist, Veronica Funk.
Bring your grandmothers, mothers, sisters, caregivers, leaders and change makers and join us in honouring all of the incredible women in our lives!
This event is free to the public. | Please RSVP by March 7th, 2023 via email: rsvp@tricolivingwell.com
What is dementia?
According to the CDC, dementia is a term for the decline in the ability to remember, think, or make decisions. While slower processing skills and difficulty multi-tasking are normal parts of the aging process, dementia itself is not. As well, dementia can cause difficulties with more than just memory, including attention span, visual perception, communication, and task execution. When assisting a person with dementia, it is common for frustration between the resident and the caretaker to occur, but it is important to always act with empathy and respect.
Dementia as a Resource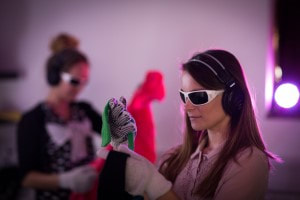 On July 21st, 2022, employees in every department at Trico LivingWell took part in Second Wind Dreams' Virtual Dementia Tour, meant to help staff understand the difficulties experienced by a person with dementia. The simulation allows employees an eye-opening opportunity to fully understand what residents with dementia are experiencing as they go about their day-to-day lives. The goal is to inspire empathy in employees interacting with residents and to reduce frustration and tension between staff and residents.
Especially critical to the simulation was ensuring that each and every staff member, regardless of department, participated in the activity. While dementia training is often reserved for health care aides, the seven dimensions of wellness extend beyond just healthcare, and all of the staff at Trico LivingWell will be equipped to properly interact with and understand residents with dementia.
Reactions to the Simulation
Many staff members were nervous to partake in the simulation, unsure of what it would feel like and fearing the loss of control and loss of fine motor skills that they would experience. Other staff members were thinking of family members with dementia, nervous and overwhelmed to confront the difficulties that their loved ones had experienced. After completing the simulation, many staff members were reflective, taking time to settle down after the insightful activity.
"I am so glad I got to participate and experience this simulation," one staff member said. "Anyone who has a loved one with dementia could benefit from learning and experiencing exactly what their loved one is going through."
Care at Trico LivingWell
Trico LivingWell recognizes the benefits of ongoing training and education sessions to we deliver the highest level of quality care to our residents. By expanding our ways of thinking beyond just the needs of the resident, Trico LivingWell's unique care philosophy will focus on building and nurturing these relationships. Our Personalized Wellness Care Plans are developed in collaboration with our residents, their family and friends, and their care partners, to address the resident's needs, preferences, and level of assistance required to help support them in remaining independent for as long as possible. With this approach, we create an enhanced care experience where everyone is informed and respected in the decision-making process.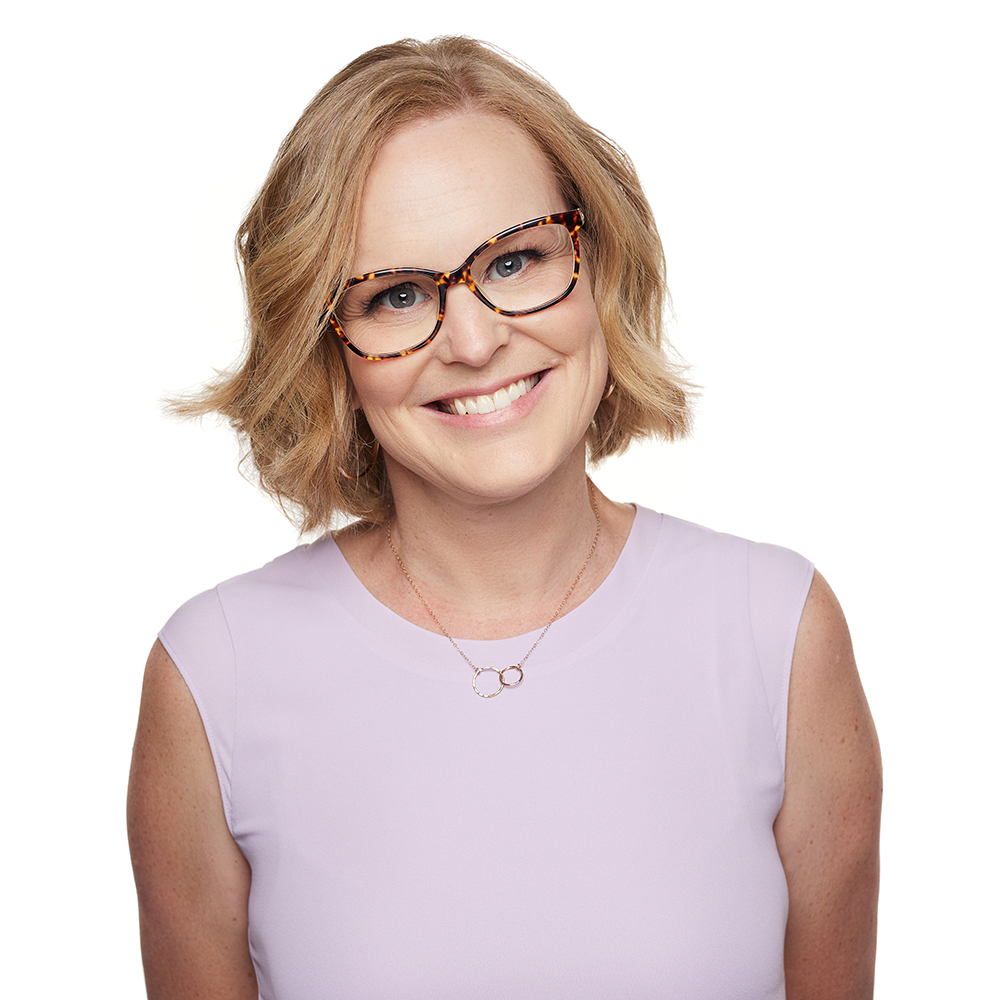 Cathy Lockhart is the RN Clinical Lead and Staff Educator at Trico LivingWell. Starting her nursing career in maternity and newborn health, Cathy eventually transitioned into older adult care, where she has worked for the last 10 years. She started at a retirement residence in Calgary, where she worked as the site RN before being promoted to the Director of Health and Wellness. Here, she speaks about the philosophies behind Trico LivingWell, what makes this residence stand out, and her passion for relationship-centred care.
Trico LivingWell is a project that is so inspirational. I first heard about it from Carole Kelly, the Director of Health and Wellness at Trico LivingWell, and I was immediately interested in it. I do not know of another older adult residence that has this level of technology, this level of planning, or these standards of both living and working. As well, Trico LivingWell is the only older adult residence in Canada that is Well v2 Certified, something that speaks to the progressive nature of Trico and the values that it was built upon. It all ties back to Trico's philosophy of "doing well by doing good," and we are certainly doing that here.
Staff wellness is just as important as resident and family wellness, but it is something that often gets left behind in the bustle of work. Working in older adult residences can be difficult, but when we take care of our staff, when we take care of ourselves, enormous benefits are passed onto our residents. The residents love to see us excited about our work, but we can only do that if we are taking care of ourselves and each other. I am really excited to help create an environment that all Trico LivingWell staff enjoy working in.
Another important aspect of this philosophy is maintaining resident independence and dignity. We are offering "à la carte" options for care, bringing choice and freedom to the residents' support system. If a resident can do something independently, then we want them to do it. I believe this makes them stronger and keeps older adults active, healthy, and empowered.
Our philosophy at Trico LivingWell is based on relationship-centred care – an aspect of our community that sets us apart. We embrace the voice of the resident in their care, as well as the voices of their family and friends. Relationship-centred care is about creating a partnership with each resident and family. Our focus is to support the resident in the way that they want to be supported, allowing them to confidently make their own choices. I endeavour to help each resident live the life that they want to live, in the safest way possible.
With summer just around the corner, it's the perfect time to head outdoors. You've probably heard that it's good to get outside, but do you know why? Nature has many great benefits to take advantage of, from improving your physical health to boosting your mental health. The therapeutic effects of nature can help keep your body and mind healthy, no matter your age.
What can nature do for me?
"Catching my breath in the fresh air has always helped me improve my physical and mental health dramatically," says Kate Rosling, Wellness Program Lead at Trico LivingWell. "From fighting diseases and enhancing mobility, to boosting mood and improving brain function, the benefits of nature are extensive. Even going on a walk through the park with a friend improves one's holistic wellbeing, providing physical, emotional, environmental, spiritual, and social benefits! Anytime the weather allows you to bring your activities outside – take it, you won't regret it!"
What activities should I do?
While regular physical activity keeps your body in shape, it has also been shown to improve mood, much like exploring the outdoors. When we spend time outdoors, we tend to be doing physical exercise, whether we are out walking our pets, or playing a game of pickleball with friends. Time spent outdoors is known to decrease stress, benefit immunity, and lower blood pressure. Outdoor activities are a great way to connect with nature while getting the exercise that helps our bodies and minds stay strong and healthy. Conveniently located just 200 metres away from Trico LivingWell is the Kingsland Community Association, equipped with outdoor exercise equipment and overlooking the spacious Kingsland Park, which includes a baseball diamond, a soccer pitch, and paved walking paths. Also nearby is the Kingsland Off Leash Area, perfect for playing fetch, practicing mindful tai chi, or enjoying a picnic.
Outdoor activities don't have to be strenuous, and you don't have to live near the mountains to enjoy the therapeutic effects of nature. Relaxing on a bench at the park, going birdwatching, or tending to a garden are all accessible activities that are fun for people of all ages. Even 10 minutes a day spent under the sun can boost vitamin D and serotonin levels, as well as help you get a more restful sleep at night. Remember, when spending time outdoors, make sure to protect your skin with at least SPF 30!
At Trico LivingWell, we offer many outdoor activities and amenities to choose from, including pole walking, fitness in the park, and even a championship-grade pickleball court. Click here to find out more about what Trico LivingWell has to offer!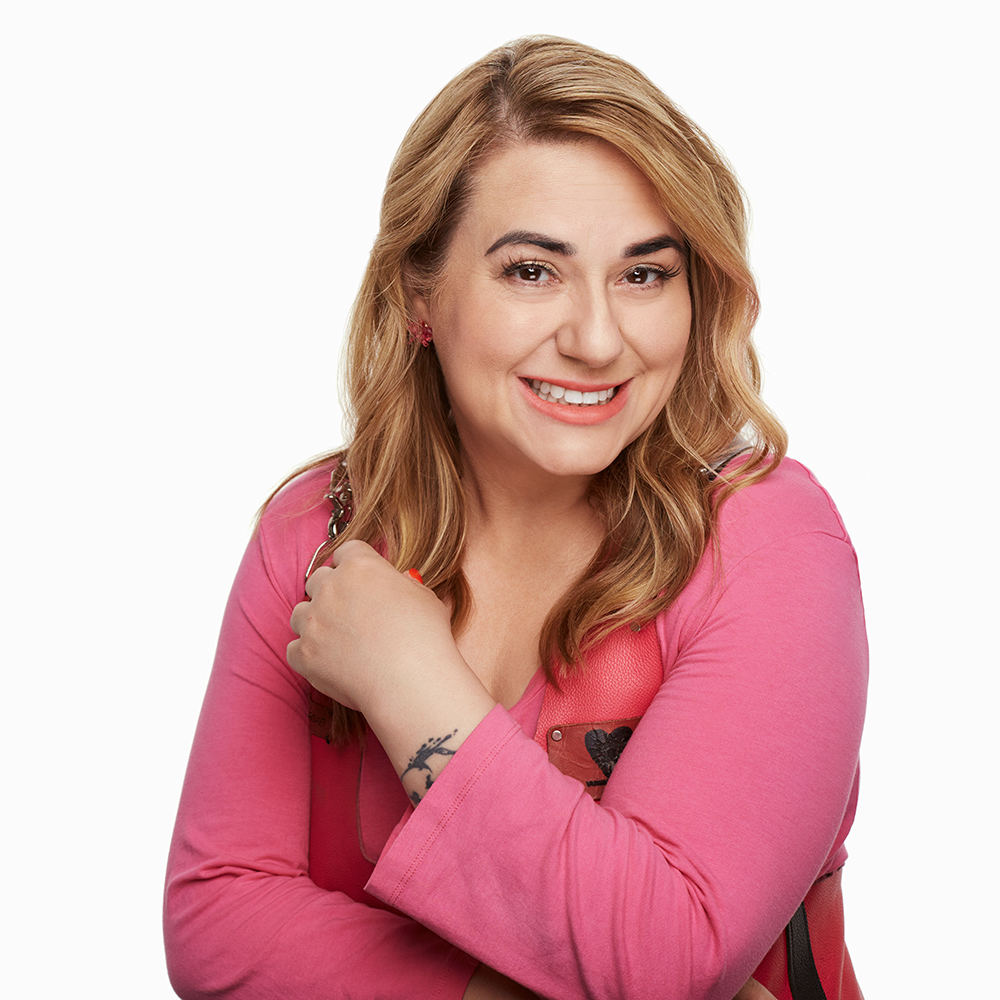 Chef Liana is the Executive Chef at Trico LivingWell. With a vibrant, award-winning career in the food industry spanning decades, Chef Liana is passionate about creating space in the kitchen for everyone. Here, she shares her start in a tough industry, her passion for crafting delicious food, and what it means to be a true change-maker.
When you move to the city from a small town, you're bound to be shocked by the changes. The buildings are bigger. Everything's faster. There are so many more faces around you, but none that you recognize. When I moved from Smithers, BC to Edmonton, AB, ready to start a career in the food industry, there was change all around me.
When I started my career, the culinary industry was not an inviting environment for women. I had this idea of creating change, sparked by my own experiences in the kitchen and my vision of what a kitchen could become. I decided then that if I was ever in a position of authority, I would make it a position of change – and I am so grateful that I have had the opportunity and support to make that happen. As the first female Executive Chef at the Calgary Petroleum Club, and with the support of management, I was able to create a safe space for women in the kitchen.
I had been cooking for my whole life, but I'd never realized how male-dominated the industry was. In fact, that's why I started wearing my signature bright pink uniform. I wanted to bring my own identity and femininity into the kitchen, where it's easy to get lost among the line cooks. Years later, it is my mission to carve out an inclusive and diverse space for everyone in this industry, where anyone can feel safe and welcome to create.
I had a lot of great chefs who worked to create change alongside me. Aside from making the kitchen more inclusive, I wanted to use ingredients that were locally sourced, so I began working with the Department of Agriculture, partnering with small, local farms and getting their produce onto plates. Farm-to-table wasn't very common at this time, but it was something I believed in and wanted to incorporate. When you think local, you bring communities together. Throughout my career, it's always been about making healthy, delicious food from real ingredients, and I'm excited about bringing that same mission to Trico LivingWell. I like to say that we use knives – not boxcutters – when we're cooking. Beginning with quality, local ingredients allows us to create fresh, delicious meals.
It's no doubt that senior living is a different dimension of cooking than I've previously experienced, but there is something incredibly special about it, too. I went to Toronto with Grace Su, the Executive Director at Trico LivingWell, to source out dinnerware such as double-handled mugs, and bowls with higher lips, that are not only beautiful, but also reduce spills and are easier to grasp. We want to ensure that in our plating, the artistry and the fine dining experience are still there, especially in dementia care.
This is my first time working in an older adult residence, and I'm really excited to be serving this community. Every aspect of the dining experience at Trico LivingWell has been curated, down to the fork you're eating with. It is a truly elevated dining experience, with so many different options, such high nutritional value, and food that celebrates life and the dining experience. When it comes to dining, it's the customer's experience that matters most to me, so I'm excited to showcase our artistry on a plate at Trico LivingWell. We are going to ensure that every single bite is beautiful, so you can Love Your Days.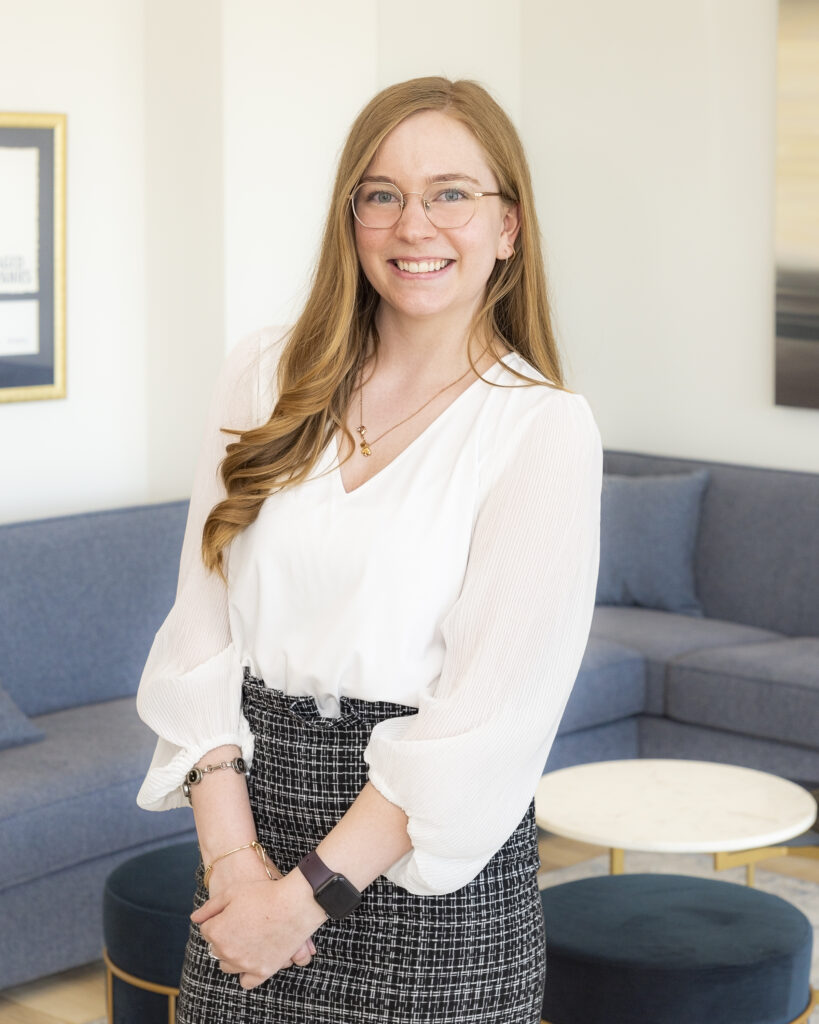 Kate Rosling is the Wellness Program Lead for Trico LivingWell. With a degree in therapeutic recreation and gerontology, she has been working in the older adult industry for the past four years. Her passion for recreational therapy started young – she can't remember a time when she wasn't volunteering or working in the field. Here, she outlines her vision for the future of wellness at Trico LivingWell, and the importance of wellness and activity in the lives of older adults.
A Vision for Wellness
At Trico LivingWell, we're using programming that aligns with the seven dimensions of wellness: intellectual, physical, social, spiritual, vocational, emotional, and environmental wellness. A lot of these dimensions overlap. For example, an outdoor art class with local students would really align with all seven dimensions. We're excited to coordinate volunteer opportunities for residents and implement mentorships for those who'd like to remain connected to their industries, combining social, intellectual, and vocational. Of course, physical activity can be a really great opportunity for social interaction.
We're going to have daily physical activities, art programs, and socials, but we're also going to have a variety of special community events. I think it's not only important to allow the residents to explore the community, but equally as important to bring the community to the residents. So, we're expecting to have animal therapy, magicians, dance troupes and other performances – more entertainment than just music.
We've also secured a bus service that will take residents and their guests to shopping centres, churches, or to the bank, but it can also take them to recreational activities that we've organized, like brewery tours or day trips to the mountains!
To me, the most important thing is getting all the different departments involved in recreation. I think it's a great way for residents to bond with all staff members. When these different departments can participate in fun activities with the residents, it's a good way to bond, and a good way to build trust among residents and staff.
The Importance of Wellness
Wellness is everything. It's amazing because it provides so many opportunities for older adults. It fuels their passions. It's just wonderful to see them shine, see their talents. It really allows us to learn from them.
Everyone needs wellness. Our focus on wellness is not just for our residents, but also for our staff, visitors, and our community. We want to strengthen wellness for everyone in the Trico LivingWell community.
I'm most excited to try out the vocational and community aspects of wellness at Trico LivingWell, and also to implement some resident-led activities. We want to encourage our residents to start clubs – book clubs, birdwatching – and to host socials. It's about encouraging community growth and bonding among our residents.
Overall, I'm really excited about what wellness is going to look like at Trico LivingWell. It's well-rounded, it's vibrant, and it's passionate.
Explore new career opportunities at the Trico LivingWell job fair, next Tuesday, May 17th, in Kingsland Junction. Don't forget your résumé!
At Trico LivingWell, the comfort and satisfaction of our residents means the world to us. The safety and wellness of everyone in our community, from our residents and their families to our employees and community partners, is our number one priority. We are creating a community where everyone can truly Love Their Days!
Trico LivingWell is currently hiring all positions for our new Older Adult community. We are looking for capable individuals who are confident in their ability to go the extra mile to enrich the lives of our residents, in an environment where personal and occupational growth is both encouraged and nurtured.
Spanning independent living, assisted living, and dementia care, we are looking for candidates in the following fields:
Health & Wellness

Wellness Artists
Healthcare Aides (HCAs)
Licensed Practical Nurses (LPNs)
Resident Experience Ambassadors
Food Services

Bartenders
Cold Kitchen Chefs
Dietary Aides
Dishwashers
Food and Beverage Administrators
Front of House Servers
Sous Chefs
Housekeeping

Housekeepers
Housekeeping Supervisors
Click here to view the full list of job descriptions and to get started on your application.
And if you're passionate about helping create the best places to age in Calgary, please join us on May 17th at 7711 Macleod Trail SW, from 1-5pm! Register here for the event.
It is our goal to curate a holistic WELL community, from build to operation, that truly supports individuals to live well and age well. That's why Trico LivingWell is pursuing The WELL Building Standard's WELL v2 Certification – and we're the first older adult community in Canada to do so! The WELL Building Standard is the most vigorously assessed performance-based rating system for healthy buildings in the world.
Nourishment
The WELL Concept of Nourishment requires the availability of fruits and vegetables, and nutritional transparency. It encourages the creation of food environments, where the healthiest choice is the easiest choice. It also promotes sustainable food source and kindness to planet earth.
At Trico LivingWell, our WELLness Cuisine is much more than just nutritional and dietary appropriate dining to meet an individual's needs. It is about bringing back the enjoyment of dining and the curiosity and excitement about food. Our creative culinary team works with a registered dietician and nutritional program to curate a 5-week cycle seasonal WELLness menu that not only checks all the correct boxes but also delights your appetite, entices your curiosity, and gives you pleasure in fine and fun dining. Food is much more than nutritional value. It is also about the culinary experience that excites our palette and senses.
Trico LivingWell supports healthy and sustainable eating patterns by increasing access to fruits and vegetables with menu items and counter display, limiting the availability of highly processed foods, and designing environments that promote individuals toward healthier choices. Our commercial kitchen is equipped with comprehensive cooking tools with the objective to bring about elevated, diverse, and different cultural healthy dining options to our residents.
Residents have the options to choose when they'd like to take their meals within our open dining hours from 7:00am to 7:00pm. Several dining amenities are available including the main dining room, patio dining, private dining room, the bistro, and our chef's demonstration dining counter. Tray service can be provided at a fee upon request. Bistro offers pub food menu, a grab and go menu, and a drink and beverage menu.
Our WELLness cuisine tastes so good that you will have no idea that healthy dining can be so effortless!
Moving into an older adult residence is an exciting time, with opportunities for friendship, social connection, and fun activities right around the corner. However, it can also be stressful and nerve-wracking. You may feel overwhelmed by all the options and changes, or even confused by the terminology. If you or a loved one is anxious about moving into an older adult residence, remember that it is perfectly normal to be nervous about entering this new stage of life, and that there are many benefits to making the move.
1) Community & Support
The best aspect of residence living is the support you'll find among the residents and staff of your new community. Whether you're enjoying a meal together, participating in an activity, or just sitting down for tea, there are plenty of opportunities to create meaningful connections with those around you.
2) Care & Safety
Many older adult residences provide care services including medication management, support with activities of daily living, specialized care for people living with Alzheimer's or dementia, and even round-the-clock nursing staff to ensure help is available right when it's needed. Additionally, many residences will hire professional chefs to head up the dining services – meaning you can enjoy delicious meals that are healthy, balanced, and catered specifically to your dietary needs.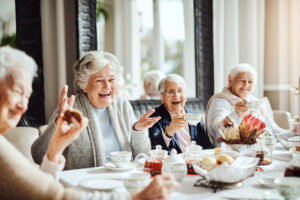 3) Stability & Structure
Knowing that you have a strong community to support you in your daily life provides a sense of stability in the moving process. It can be difficult to move into an older adult residence when you are unsure of what to expect, but having a routine – including scheduled activities and mealtimes – can help make the transition smoother.
4) Health & Fitness
We all know how important physical activity is for our health. At an older adult residence, you will get the benefit of guided fitness classes to help improve your mobility that are also fun to participate in! Plus, there are many opportunities for social and intellectual activities as well. From dance lessons to chess to weekly movie nights, there is sure to be something for everyone.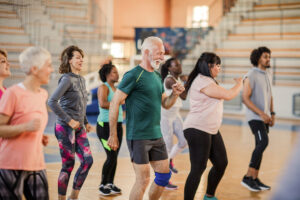 5) Pet Friendly
Many residences are pet friendly, meaning your furry friends can join you on your new journey! Pets offer numerous health and wellness benefits, including companionship, reduced anxiety, and opportunities for exercise and play.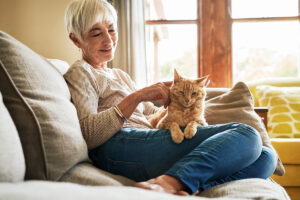 6) Peace of Mind
At an older adult residence, you can sleep soundly knowing that everything is taken care of. Not needing to worry about home maintenance and daily tasks like cooking, cleaning, laundry, and buying groceries allows you to focus on what really matters to you. You can spend more time relaxing, picking up a new hobby, or meeting more friends in the community. The possibilities are endless indeed!
At Trico LivingWell™, we're ushering in a bold new age where older adults are redefining aging and living life to the fullest. Our older adult rental communities are designed to empower those who embrace independence and active living – while facilitating inclusivity and togetherness through a holistic health, empathetic and personalized approach to aging. Speak with our lifestyle leasing consultant to find out how we can help you age in place!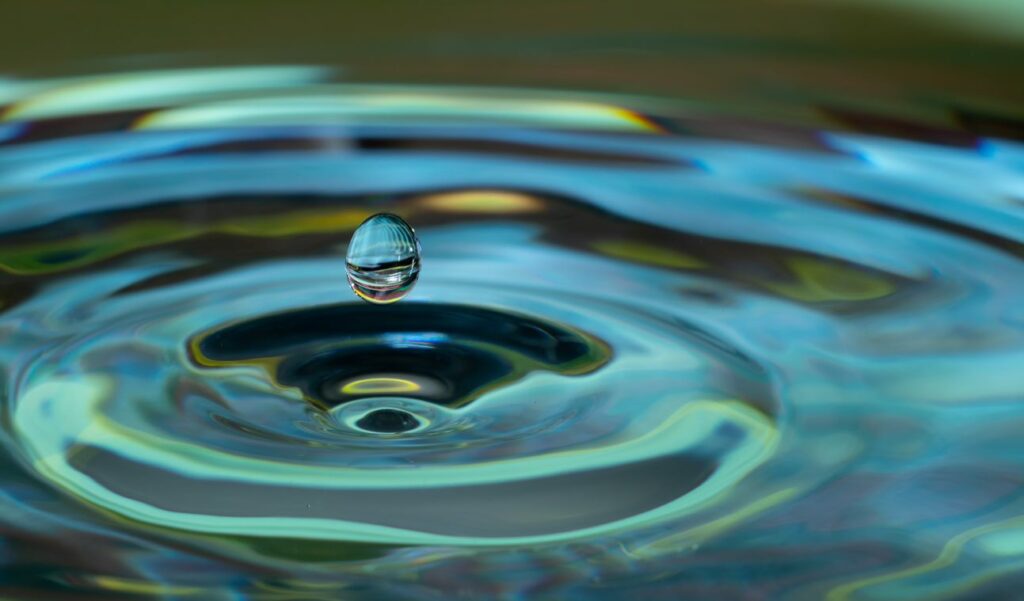 It is our goal to curate a holistic WELL community, from build to operation, that truly supports individuals to live well and age well. That's why Trico LivingWell is pursuing the WELL Building Standard's WELL v2 Certification – and we're the first older adult community to do so! The WELL Building Standard is the most vigorously assessed performance-based rating system for buildings in the world.
There are 10 concepts of well-being in which the WELL Building Standard is categorized.
Water
Today we'll talk about the WELL concept of water, which covers drinking water quality, distribution, and promotion within the building, as well as moisture management to avoid degradation of building materials and environmental conditions.
The high quality of drinking water at Trico LivingWell starts with source water from the Elbow River Watershed from the Rocky Mountains and Foothills, which benefits from minimal industrial or agricultural runoff. The City of Calgary then employs extensive treatment systems to produce and deliver safe, pristine drinking water.
Trico LivingWell will ensure superior water quality throughout the building, and promote hydration as a key wellness measure, both through drinking water access, and water quality transparency. Our strategies include:
Rigorous on-site performance testing, both at construction completion and ongoing at regular intervals, targeting WELL's Enhanced Water Quality optimization feature.
Active control of unintended moisture in the building from water infiltration, condensation, or internal leaks. The building envelope was designed to be fully enclosed with a vapour barrier on the inner sides of the exterior walls, and an air barrier on the outer sides.
An inside environment that was designed with materials and finishes that are generally non-porous and non-organic, so harmful moulds and other biological agents do not have a platform or food source to grow on.
Ventilation systems that keep air moving throughout the building, further assisting in preventing condensation from occurring.
Easy access to drinking water throughout all the amenity areas, promoting hydration by meeting the WELL requirements for the number and spacing of water dispensers, maintaining water taste quality.
Water sensor monitors installed in all suites to detect and respond quickly to any possible water leaks.
Test results and information on treatment systems will be made available for occupants.
From build to operation, Trico LivingWell is fully committed to enhance human health and wellbeing.